TBM and Mitsui Fudosan Residential jointly conduct a feasibility project to realize advanced resource recycling in condominiums
Introduced "MaaR" to promote resource recycling of plastics and LIMEX products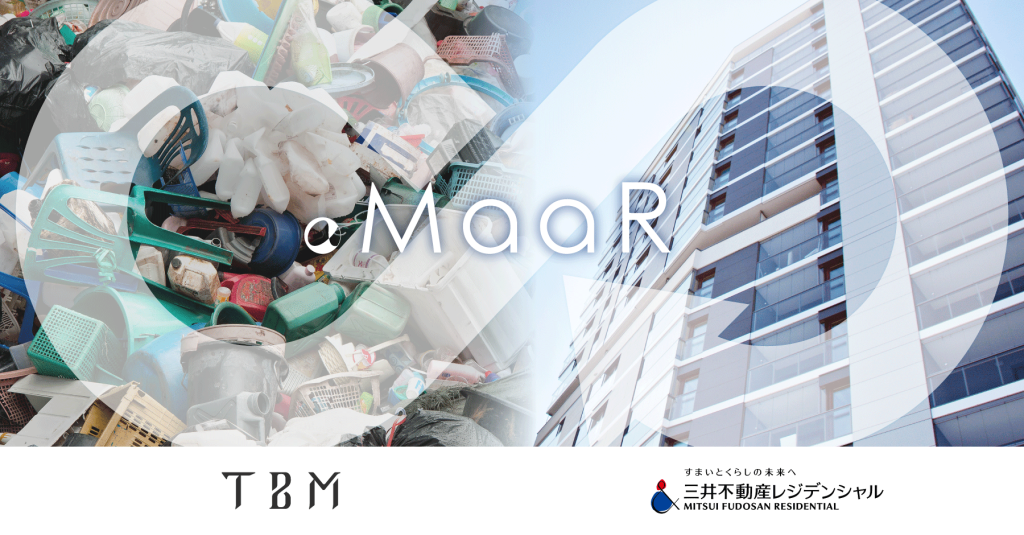 TBM has been conducting a feasibility project since December 29, 2022, for residents of Kachidoki The Tower (1,420 units) and Park Homes Toyosu The Residence (693 units), condominiums, through "MaaR," a resource circulation service for collecting and recycling resource plastic and LIMEX products, in cooperation with Mitsui Fudosan Residential Co.

In Japan, about 70% of all sorted and collected waste plastic is burned, and with the enactment of the "Law Concerning the Promotion of Resource Recycling of Plastics" in April 2022, the importance of recycling plastics as a resource is increasing. Plastic products other than containers and packaging plastic discharged from households are also subject to recycling promotion.

In this project, TBM will collect recyclable plastics and used LIMEX products from condominium residents, most of which have been incinerated in the past. Instead of incineration, these products will be recycled at TBM's recycling plants. By providing residents with garbage bags made from recycled materials, TBM will promote its efforts to create environmentally advanced condominiums.​​
​
---
■ Background
The destruction of ecosystems due to resource depletion and the "Basel Convention" have increased the need for resource recycling. In Europe, numerical targets such as "recycling more than half of all waste plastics generated" by 2030 have been set, and materials and products must be developed based on the premise of recycling. In Japan, on the other hand, about 70% of collected waste plastic is burned.*2​

The Ministry of the Environment has announced its "Plastic Resource Recycling Strategy," setting a milestone of doubling the recycling of plastics by 2030. It also aims to shift to "material recycling," in which resources are recycled by transforming them from thing to thing, and the New Plastics Law came into effect in April 2022. In addition to containers and packaging plastics, various "plastic products" are also required to be collected and recycled without being burned.

​
---
About the project
During a six-month period from mid-December 2022 to mid-June 2023, resource collection boxes will be placed at the waste collection point on each floor to collect plastic bottle caps, clear files, and LIMEX products. TBM will not incinerate the collected products in this project but will instead recycle them as materials at the recycling plant operated by TBM. The recycled resources will be made into garbage bags and distributed to households. In addition, the significance of the project will be communicated to residents through flyers and posters made by LIMEX Sheet.

​​Through this initiative, TBM expects to reduce greenhouse gas emissions by approximately 1,100 kg by recycling the material at its recycling plant, compared to incineration. In addition, the use of this recycled material in place of virgin resin can be expected to further reduce greenhouse gas emissions by approximately 850 kg. 

​​