2017/05/19
The Asia-Pacific Stevie Awards
Double Gold Awards of Product Design and Development and Corporate Innovation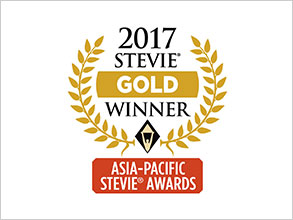 TBM Co., Ltd. would like to announce that our company was named the winner of Energy & Sustainability Stevie® Award in the Product Design and Development category and Manufacturing Industries Stevie® Award in the Corporate Innovation category in the fourth annual Asia-Pacific Stevie Awards today.
 
The Asia-Pacific Stevie Awards are the only business
awards program to recognize innovation in the workplace in all 22 nations of the Asia-Pacific region.
 
Stevie Awards (Based in Washington D.C. in the U.S.) are conferred in seven programs, and the Asia-Pacific Stevie Awards are one of them.
 
Stevie Awards were founded in 2002. The Stevie Awards are widely considered to be the world's premier business awards, conferring recognition for achievement in programs such as The International Business Awards for fifteen years.